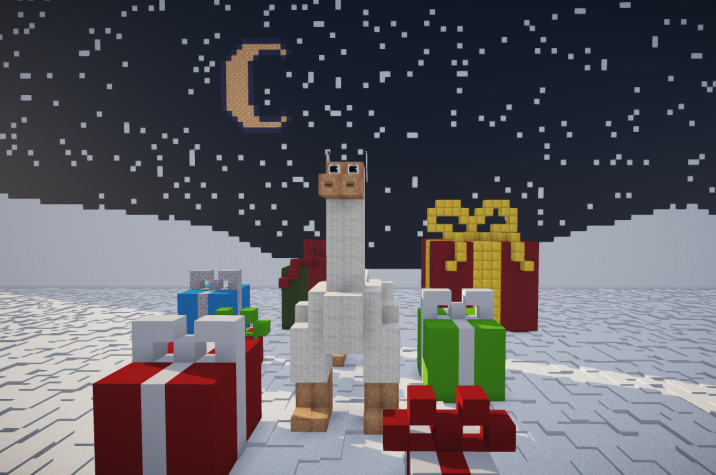 It's the most llamaful time of the year!!
Secret Llama (SL) is a long-standing Nerdcrafteria tradition, akin to Secret Santa, where players submit a registration form listing their interests, and then get matched with two other players. One will be your Secret Llama, and they will make gifts for you, the other is the player you will make gifts for as their Secret Llama. SL events are held twice each year, once in the summer, and once around the winter holidays, typically spanning the whole month. Week 1 is registration and assignment week, and then the real fun begins!
How to Participate:
Fill out the Winter 2022 Secret Llama Registration form. Be sure to fill out the favourites/interests section thoroughly to help your SL make something awesome for you!
Registration deadline is Friday, December 9th at Noon EST. 
You will receive a Discord DM with another player's name and interests by Sunday, December 11th. If you do not receive your assignment, please message BirdyNerd on Discord.
As soon as you receive your assignment, you can get to work making an awesome gift! Remember, gifts don't need to be expensive to be fun. Multi-part gifts, scavenger hunts, jokes, riddles, puzzles, renamed items, personalized notes, and pixel art are great examples of SL gifts.
Deadline for gift delivery is Wednesday, December 28th to give folks some time to collect their gifts from Explore before January reset.
Once the gift giving begins, we'll open up a Secret Llama Discord channel where you can talk about all things Secret Llama and post screenshots of your goodies.
Tips:
Don't spill the beans! Over the course of the event you may be asked to help send messages or hints to fellow players. If you know who someone's SL is, don't tell!
Pay attention to chat, the person you're making a gift for might drop hints about things they might enjoy receiving.
If you are leaving a gift in Explore, try to do so sooner rather than later so your recipient has time to find and enjoy their gift. Remember to password protect and label chests, and report any griefing to builds promptly via modreq. 
If you are no longer able to make and deliver a gift for the player you are assigned, please message BirdyNerd on Discord ASAP so we can adjust the assignments.
If you do not receive your gift, or a message about your gift, by December 28th, please message BirdyNerd on Discord. We'll get in touch with your SL and make arrangements for you to receive a gift.
What staff can and cannot do:
Staff CAN deliver chests full of goodies to plots for you. Just make a modreq from the location of the chest including the coordinates or general location for where you'd like us to put it.
Staff CAN sign books and/or send messages to your recipient with hints about where to find their gift, if you'd like your identity to remain a secret until the event is over.
Staff

CANNOT

add you to your recipient's plot so you can build there.
Staff CANNOT use WorldEdit to build things for you.
Staff

CANNOT

create regions in Explore for you.