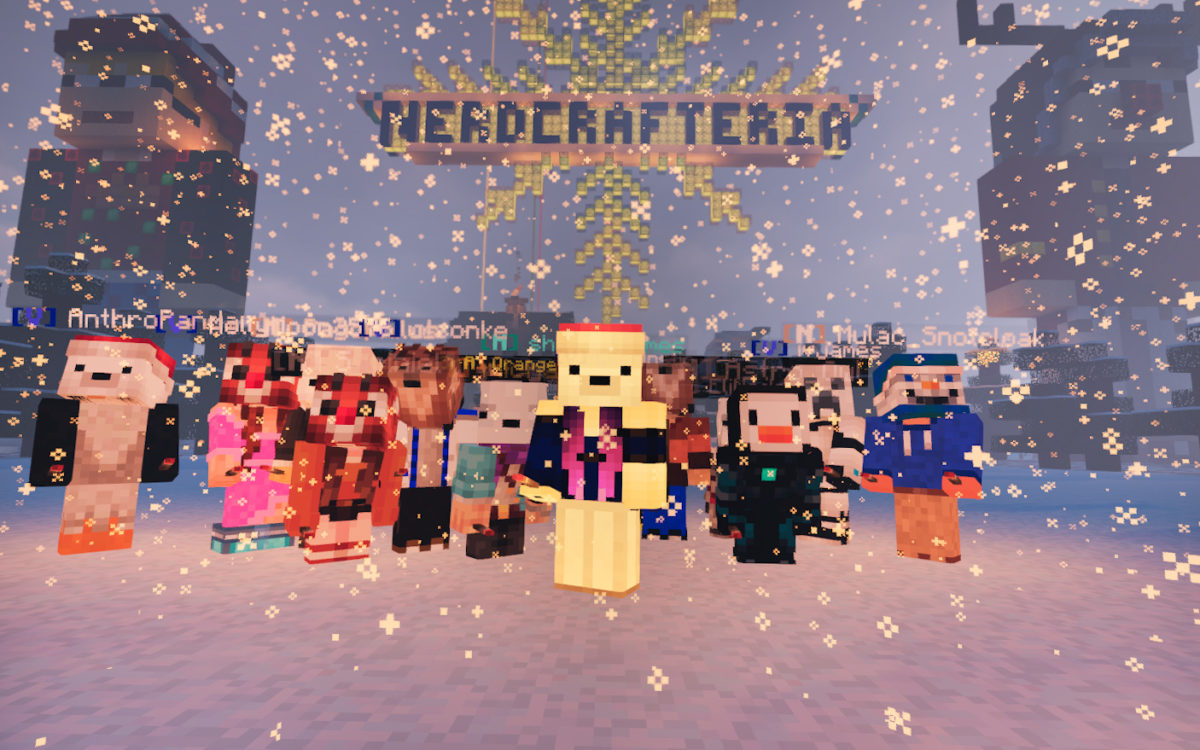 Hello and welcome to the December Nerdcrafteria Bulletin! Here is where we'll put all things server excitement, including world changes, events, maintenance, and more. We also have a section specially dedicated to our player events.
Staff Events
Here's a list of all of our official server events happening this month! If you have any questions on these, feel free to ask in Discord or in game and a staff member will give you more info! We will also be posting announcements for these as the month goes along.
Spawn Presents: Every Day December 1st – 31st
Monthly Maintenance Window: December 9th, 7 a.m. Eastern
Optional Monthly Maintenance Window: December 16th, 7 a.m. Eastern
Secret Llama: One gift every week December 6th – 26th (signups closed)
Market Weekend: December 11th – 13th
Reindeer Games: December 12th at 11am, 3pm, and 6pm Eastern
2020 Is Over Party: December 31st All Day – Fireworks at 9pm Eastern
Things To Note
Our center economy spawn (/spawn) will have a new wintery gift arrive each day! We hope you enjoy this gift to you from us for the holidays.
Our explore spawn (/explore) has a few ways to get involved! Design an ornament 5x5x5 or smaller on your creative plot, then /mail or Discord pm Xander with the coords to have it added to our Christmas tree! We will also be holding Menorah lightings each night of Hanukkah, and would love to have you join us. Finally, be sure to hunt through the giant tree for the hidden pickle ornament! More details at the base of the tree.
Reindeer Games December 12th at the Fairgrounds! Race the course, Fastest one to the finish wins all the glory! Each Race will have prizes for the top 3 racers, so don't fret if you miss one of the races. The course will stay up the rest of the month so you can continue to challenge friends!
Our Caveblock season has been extended by popular request. We are now looking at a reset around the New Year. Be sure to polish up those caves and have them super lovely for voting later this month.
Player Events
Are you hosting or running a player event? PM the details to Flaw on Discord and it could be included here!
Sheep Hockey: It's time for the 5th monthly sheep hockey tournament! We are adding a new team: the Knights of NI! If you want to watch or play a sheep hockey game, now's the time! Contact Pagophilus or Astro_Owl for info. The league returns this month in grand fashion– with a festive rink, streamlined game planning, and shrubbery pom-poms in our gift shop!
Edgeville: Edgeville building will be available from Dec 3rd until Dec 25th, voting will last from Dec 26th-31st, and prizes will be given either on the 31st or just after reset on Jan 1st. Theme is TBA. Contact DefiniteMcLovin for more information.
Sign Party: December 19th at 6 p.m. Eastern. Contact BigBen for more information!
Shab to Fab: Building Tips!
This is a new segment where we cover little ways to spice up your builds! Feel free to take whatever you feel you like and leave the rest, this all comes down to taste.
This month: Snow Edition!
Snow layers are awesome for adding texture to your wintery builds. Combined with ice, diorite (for crunched snow!) or greenery, you can make some beautiful roads suitable for tons of different winter wonderland builds.
Have an idea or submission for this segment! Feel free to email your captions and images to [email protected]. Please note we may not be able to take all the submissions, but we will do our best!