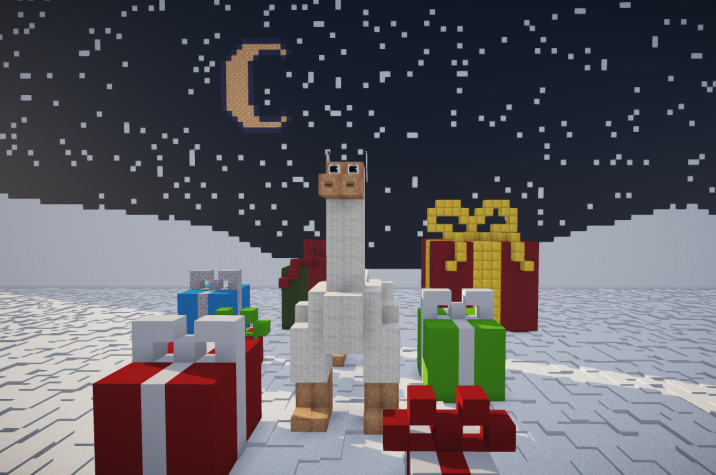 It's the most llamaful time of the year!
Winter Secret Llama is here!
How it works:
Secret Llama is just like other Secret Santa gift exchanges with the exception that it all happens in-game on Nerdcrafteria! After you sign up, you will be assigned another player to whom you will give 3 gifts to over the course of 3 weeks. Gifts can vary from chests full of renamed items, to substantial monetary endowments, intricate art or literary pieces, carefully crafted quests, goodies from the Enjin shop, and so much more! While you're secretly crafting presents for someone else, someone will be secretly creating presents for you!!
How to participate:
Fill out the Winter Secret Llama Registration Form. Deadline for SL registration is 11:59pm EST, on Saturday, November 28th.
You will receive a Discord PM with your SL assignment by Tuesday, December 1st. If you don't receive your assignment by the end of the day, please PM BirdyNerd on Discord.
Beginning the week of December 6th, you will need to give at least 1 gift each week, for the next 3 weeks, to your assigned player.
Gifting weeks:
Week 1 – December 6th – 12th
Week 2 – December 13th – 19th
Week 3 – December 20th – 26th
Gifts can be delivered to player's plots if you make a modreq, or can be built/hidden somewhere in Explore. If you decide to put something Explore, it's a good idea to password lock the chest and ask a friend, or modreq for a staff member, to send a message with the password. If you have been assigned a staff member to make gifts for, be sure to ask a friend to lock your chests for you. Staff can see who sets the locks, and your identity will be revealed!
Please don't reveal yourself before the last week of Secret Llama! Don't spoil the surprise!
Tips:
Pay attention to your assigned player in chat, and on Discord to get ideas for things they might enjoy.
If your Secret Llama doesn't seem to be participating, please boop BirdyNerd on Discord, so staff can follow up with them, and adjust assignments as needed.
If you must to go AFK, please let us know ASAP. Arrangements can be made for gifts to be held by the Secret Llama team and distributed for you, if you so wish.
Have fun! Your gifts don't need to be extravagant to be fun. A clever gift is just as fun as an expensive one!
If you learn who someone's Secret Llama is, keep it hush hush! It's best to act like you also have no idea to avoid spilling the beans.
Be sure to label builds in Explore as SL gifts, and include the name of the player the gift is for.
What the Staff CAN and CANNOT do:
We CAN put chests full of goodies on plots for you.
We CAN tell you what towns your recipient owns plots in.
We CAN sign books and/or send mail to your recipient so they know to check their mail or a certain plot for a gift.
We CANNOT add you to your recipient's plot so you can build something there for them. On the off chance they are particular about that plot, had plans for it, etc, and the fact that server policy has ALWAYS been that the plot owner is the only one who can request membership changes we are not able to do this.
We CANNOT use World Edit to copy/paste something you've built in Creative.
We CANNOT make regions to protect your builds in Explore.
We hope you have fun with this year's Winter Secret Llama! If you have any questions or run into any hiccups, please reach out to BirdyNerd on Discord and she will be happy to assist you. DFTBA!